Home Health Care
(Providing Personalized Home Care by the Doctor)
Home care is care that allows a person with special needs to stay in their home. It might be for people who are getting older (aging in place). It could also be for people who are chronically ill, recovering from surgery, or have a disability. Home care services include:
Personal care, such as help with bathing, washing your hair, or getting dressed
Household chores, such as cleaning, yard work, and laundry
Cooking for you in your home or delivering meals to you
Money management, such as help filling out forms and making sure that your bills are paid on time
Health care, such as having a home health aide come to your home or getting care from your provider through telehealth
You can get almost any type of help you want in your home. You have to pay for many of them. But some types of care and community services are free or donated. Sometimes government programs or your health insurance will help cover the cost of certain home care services.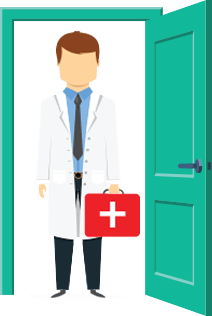 What if your grandmother suddenly falls sick and the nearest doctor from your home is loads of kilometres away? Which doctor will you contact during an emergency? We, at Safar Wellness, understand that the need for a doctor can arise at any time.
Contact us and our doctor will come right at your home and provide you with the necessary consultation, even to your office. Gone are the days when you'd have to go and visit a doctor every time you get a flu, stomach-ache, etc.
Doctors Visit At Home - Enabling Healthcare For All

Certified General Physicians at home covering
Diagnosis And Prescription

Coverage From 8 AM To 8 PM
All samples should be kept cool (at refrigerated temperatures, but not frozen) during storage and shipping to minimize changes in cells that can occur with storage. The sample should be wrapped in paper towels to prevent direct contact of the tube with ice, which will result in freezing and lysis of red and white blood cells within the tube.
Also, blood smears should be made from freshly collected blood and submitted along with the tubes to help facilitate blood smear examination and ensure provision of the most accurate results.

Some Important assisted devices
Home Health Care Consultation